Maelström Winery – Huron County's First Winery
Maelström may be the first winery to discover the diverse ecosystem of Huron County, but we won't be the last. Ensure you're among the first to experience it!
---

The Name
A Maelström is a powerful tidal current or whirlpool. In literature, a Maelström is almost always used metaphorically to depict adversity and the hidden opportunities presented by that hardship.
We chose our name to reflect our belief that challenges give rise to opportunity and, as is the case in Edgar Allan Poe's Descent into the Maelström, sometimes opportunity comes in the form of a wine barrel.
Artisanal Winemaking Philosophy
It's our mission to showcase what Huron County has to offer, and we do this by making unique and flavourful wines produced from Huron County grapes. Our artisanal and "hands-off" approach allows the richness of the terroir to come through in the wine.
A Hands-Off Approach
From the start, it's been important to us to use winemaking techniques that allow us to use less intervention when processing the wine. This means we use fewer chemicals and gentle filtering practices. Our hands-off approach results in wines that are flavourful and rich, and it's a little better for the environment, too.
Creating Meaningful Experiences
We are dedicated to creating unique and memorable experiences from the moment you step in the door, to the first sip of your tasting. 
Huron County
Located on the shore of Lake Huron, Huron County offers a wide range of beautiful natural attractions and fascinating wildlife.
Our winery is close to several conservation areas, such as Bannockburn Conservation Area, Hullett Provincial Wildlife Area and Falls Reserve Conservation Area (Benmiller Falls).
We are also close to the Blyth Festival Theatre, and about 20 km from two popular beaches, Bayfield and Goderich.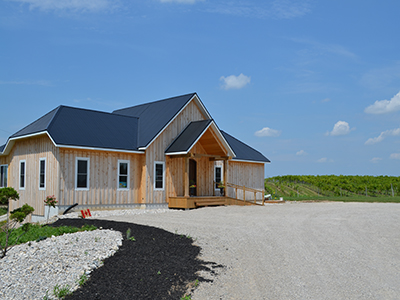 ---