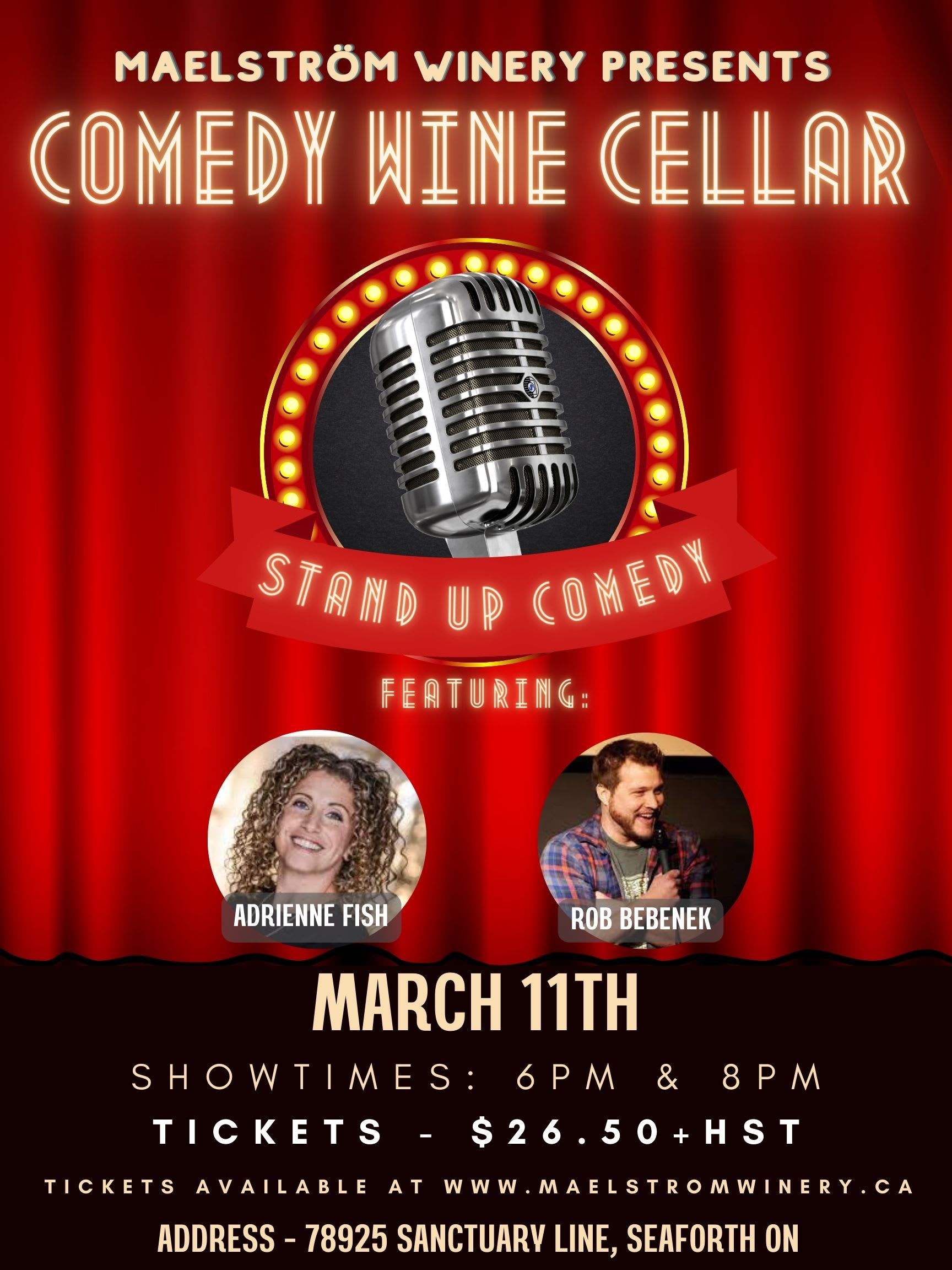 March 11, 2023

Come out for some great wine and a night of laughter!

'Comedy Wine Cellar' hand picks Canada's best international comedians (who have been featured on CBC, CTV, Just for Laughs, etc.) and brings them to the cellar of Maelstrom Winery.     

Show times will be 6:00pm and 8:00pm

Tickets are $26.50+HST.

Tickets available at: Event Tickets

LIMITED SEATING so book now!
Uncensored Show. Discretion Advised.
*If ordering online, the tickets will be set aside for you to pickup the night of the show*
The Comedians' Bios
Adrienne Fish - Has been making her mark on Canada's comedy scene. Based out of Toronto, Adrienne has recorded four nationally aired TV tapings, including her most recent taping for Comedy Central at Just For Laughs. She's appeared on CBC's comedy show The Debaters,  and was nominated for a Canadian Comedy Award.

Bringing her big energy to the stage, she tours across Canada and the USA, performing at various clubs, colleges/universities, opening for household names such as Doug Stanhope and been invited to prestigious festivals such as Just For Laughs, Winnipeg Comedy Festival, Halifax Comedy Festival, Hubcap Comedy Festival, Atlanta's Laughing Skull, and JFL42.  Off stage, she can be heard on SiriusXM's 'Canada Laughs', and her debut album went #1 on iTunes. She's loud, she's playful, and she's watching you right now….
Rob Bebenek -  After appearances at the Just For Laughs Festival and a breakout viral video from Winnipeg Comedy Festival in 2018, Rob Bebenek has asserted himself as one of the brightest new voices to come out of Canada. Quick wit and a keen eye for observation, highlight a comedy skill set that is becoming a force on stages across North America, and has audiences wanting more. As a finalist in Sirius XM's Top Comic, Bebenek asserted himself as a major player in comedy and has since imposed his brand on Theatres, clubs and colleges, and rightly so. The man is flat out funny. From Kitchener Ontario, Bebenek AKA Ol' Bebsie, has been drawing acclaim across Canada earning himself appearances on MTV and opening concert series for Bob Saget, Burt Kreischer, Charlie Murphy, Steve-O, and Gerry Dee, to name a few.